ENDURrun Ultimate Stage 2: The 15km Time Trial
The clock strikes 5:30am and the alarm goes off. I groggily hit snooze for a few more minutes of rest, before getting up to start the kettle for coffee. Yes, this is Monday, but not just any Monday… it's Stage 2 of the ENDURrun Ultimate!
Today's race is a 15km fairly flat road race, with a twist. It's a time trial. This means that the runners start in reverse order, 1 minute apart. I would be starting 14th, seeded in with the female and guest runners.
Time trials are neat for a couple of reasons. First, it gives the people who usually run at the back (like me) a chance to run and finish first. Second, because the people in front of you were slower, the object is to try and catch them. It kind of forces you to run a bit faster than you normally would. Lastly, you get to see the elite runners since they are trying to catch you too.  The course for the time trial is a fairly flat out and back from the race director's house. Not my favourite kind of course, because the roads are very straight and flat, and you can see >3km down the road. Mentally, for me, these races are tough, because you can see where you are going, but know that it's going to take you some time to get there. In my case, I can see the finish line 3km away, and know it's going to take me between 16 and 20 minutes to actually arrive. 
The weather today was cool to start, with some light clouds. Perfect to run. The forecast was hot though; hopefully I'd be done before it got too bad.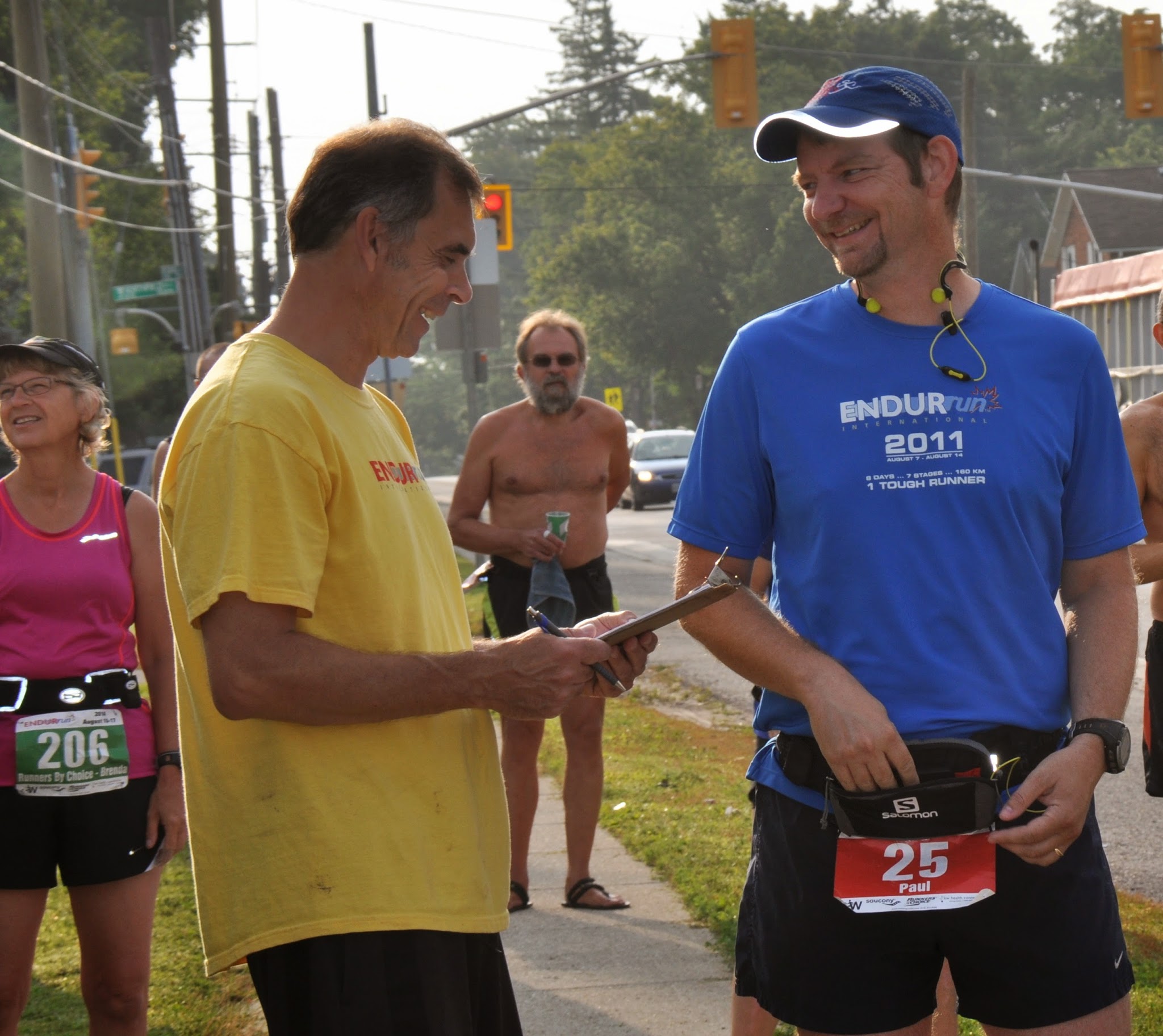 Some laughs with Lloyd before I started off.
Being one of the last male Ultimate finishers in yesterday's stage meant that I was one of the first ones up. Eventually my time came, and I lined up at the start. Lloyd, the race director, made some light chit-chat with me to count the minute down. I made sure all my technology was in order, and with a 5-4-3-2-1 count, I was off!
I always go out too fast in the time trials, and this one was no exception. Maybe it's because everyone is gathered at the start, and watching, and cheering and clapping, I feel the need to make it look good. Maybe it's the pressure of being a time trial, and wanting to run just a little bit faster. In any case, I felt good, and just put on the jets. For me, that is a 5 min/km pace. No way I could maintain that; I didn't train with that pace, but I was feeling good, so I kept it up for as long as I could. That ended up being about 6km mark. At that point, I needed to back off a bit. I walked through the water stations, as I normally do, grabbed both a Gatorade and water, and took a minute or so of a fast paced walk. Once I rounded the corner onto the gravel part of the run (the last 3rd before turning around and going back to the start), my legs started to feel the fatigue, and also the stress of starting so fast. Also, the clouds burned off, the sun came out, and it started to get hot. The breeze which I'd enjoyed up to now was at my back, and it became stifling.
I walked again at the turnaround, for a minute or so, then started to run, albeit at a much slower pace than before. I made it to the water station, ran a bit, then took one more walk break with 3km left. I vowed to myself that no matter what, I wasn't going to walk again. At this point, my pace was 5:30 to 5:40 min/km. I managed to catch a few people, while also letting some catch me. I was dying for a walk, and yet I held on and finished in 1:24:29 (unofficial). To say I was happy was an understatement. I was actually really proud of myself for not giving up. Lately, especially on solo runs, I have had a tendency to give in and either walk or slow down when the going gets tough. I know it's only training, but when I'm by myself, it's too easy to bail out and give up. This time, I pushed through the uncomfortable and finished well under my personal goal of 1:30. Yay me!
I stayed around to cheer on some of the racers as they finished, then headed across the street to Lloyd's house to swim in the pool and partake in the food. The pool was cold, and extremely refreshing. The food, as always was fantastic. The remainder of the morning was spent with the other runners, talking about their race, and how it went for them.
Tomorrow will be one of the true tests of the ENDURrun; the 30km trail race, made up of 6 5km loops through Bechtel Park. This race has traditionally been a real grind for me. Lots of hills, not big one, but hills nonetheless, and varied terrain. That, plus the seemingly endless loops make it a very challenging course. And guess what? Tomorrow the forecast is for much rain, and thunderstorms. Awesome. 
As more pictures become available, I'll post them. All pictures, unless otherwise noted, are courtesy of Julie Schmidt, Principal ENDURrun photographer.