ENDURrun 2012 Stage 6: The 10km Time Trial
It hurts up to a point and then it doesn't get any worse. – Ann Trason
Today's stage is the shortest of all, a mere 10km down a nice flat net downhill route. Sounds easy, compared to all the other stages we've run this week. But it does come after arguably the hardest stage, and the idea is to run fast and catch up to the person in front of you. On trashed legs, it's not as easy as it looks.
For the first time this week, I slept in for the race. My normal wake-up time is 5:45am, so I can get breakfast down, get organized, and get to the start line in good time. Ed was banging on my door at 6:30am, waking me out of a dead sleep. My sleep this week has also been terrible, probably why I slept in so late. That and the partying going on outside until 3:00am. Stupid students. Because I was so rushed, I didn't do some of my pre-race rituals, like take my Advil, or put cream on my back (I've got a bad rash that is very itchy and painful; no idea where it came from). I did remember my watch this time, but forgot the heart rate monitor. Not a great start to the day.
This stage is also a point-to-point race, starting in Elmira, and ending in Conestoga, in front of the race director's house. We all have to be ferried out to the start line, either in someone's car, or your own (and you have to go get it afterwards). I was waiting around for a ride, and eventually got one with Bob and Jackie (current ENDURrun Ultimate leaders for the men and women). Costas and Savvas, two Sport competitors, were also in the car.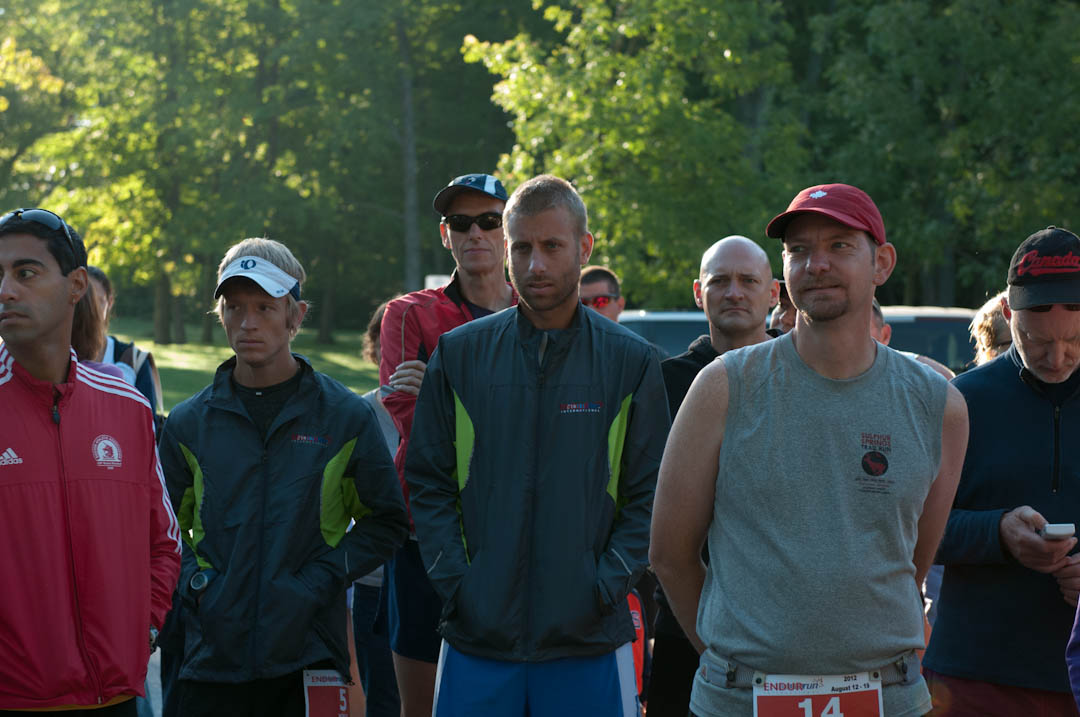 Photo by Julie Schmidt
Temperatures this morning were quite cool, cooler than I remember it ever being. I debated whether I should wear my jacket while running, but decided not to. Forecast was sunny, with few clouds, and I knew that I'd heat up in a flash. The course is mostly in the open, with little shade, and I'd bake in the jacket.
My IT band was sore, as was my right Achilles heel. I'd iced both the night before while watching a movie (the Bourne Supremacy, for those curious), and when I went to bed, they felt okay. But in the morning, doing some test jogging up the street, I knew I was in for a tough run. In past stages, the IT band has been painful up to the 8km mark or so, then settled down. Since the race is only 10km, it means that I will likely be in much pain until just before the end. Lovely.
Lloyd starts everyone in reverse order based on their times from the day before. There were also a number of guest runners today, as it is Saturday, and 10km runs are popular among the running folk. They were interspersed in the Ultimate and Sport competitors. Since I've been so slow this week, I was starting pretty soon, likely in the first 10 runners. I took my spot, talked to Lloyd for about 50 seconds, then he counted me down and I started off.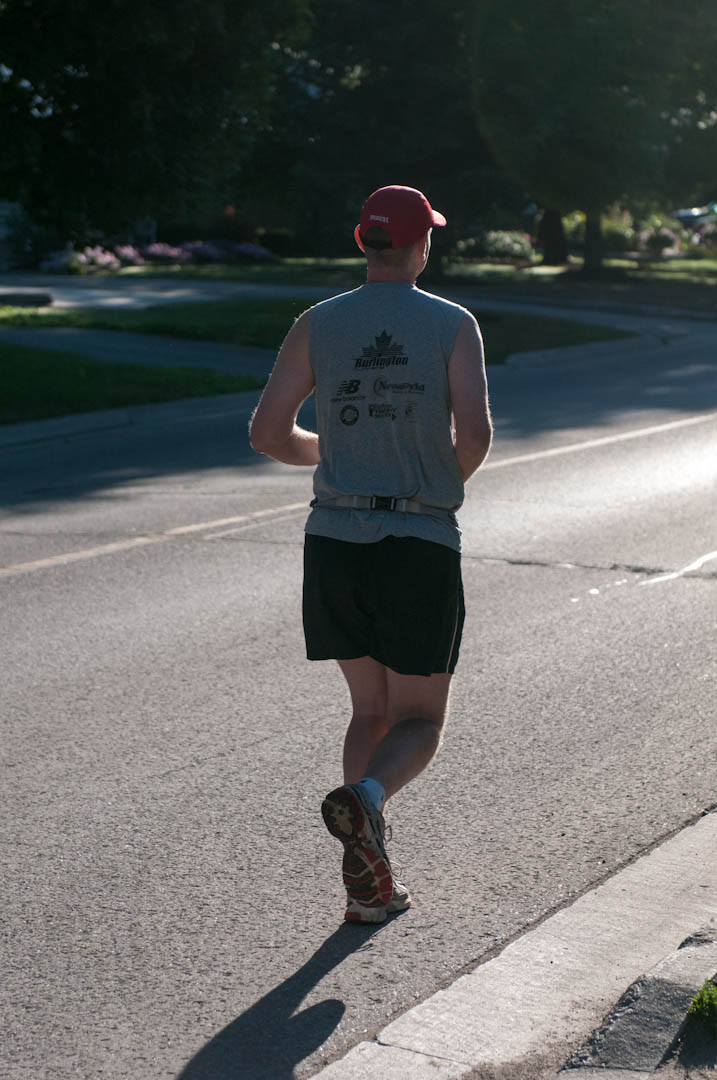 Photo by Julie Schmidt
Pain. It's all I felt. Like a knife sticking in the side of my knee. I also had a new pain, under the ball of my right foot. Symptoms were like plantar fasciitis, but I've never felt that, so I don't know. All I know is that it was uncomfortable. I laboured to about the 2km marker, then took my first walk break. Ahead I could see one of the runners that started ahead of me. I did try and see if I could overtake him, but with me walking it wasn't going to happen.
The route is very straight and long, which makes it seem endless. I much prefer something that weaves and change directions; where I can't look 3km straight down the road and see everyone. It feels like I'm not getting anywhere.
The run/walk/run continued for probably the next 2km to the 6km mark. At that point the pain became a little bearable and I was able to ditch the walking. I motored through the last 3km or so without walks, and finished in probably a personal worst time. It was very sobering and depressing. The time didn't bother me as much as the pain I felt in the knee. If it feels like that, how is it going to feel for 42.2km? Not pleasant, that's for sure.
After the race I stood in Lloyd's pool; the cold water felt real nice on my legs. Since it was an early race, the food was all breakfast-like. Lots of home made stuff like pancakes, as well as donuts and fruit and other snacks. And coffee. Lots of coffee.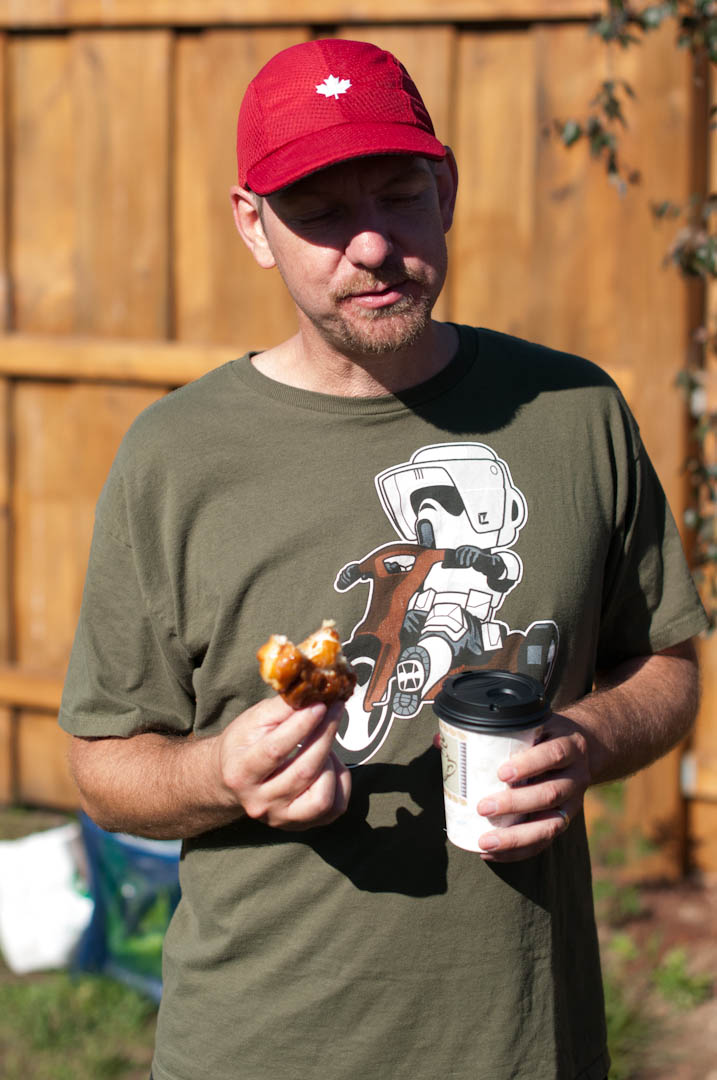 Mmm… Donut…
Photo by Julie Schmidt
Race Statistics: TrainingPeaks