ENDURrun 2012: Stage 1: The Half Marathon
Tomorrow is another day, and there will be another battle! –Sebastian Coe (a few minutes after a 2nd place finish in the 800m Olympic Games final in Moscow 1980, he later won the 1500m , he had been favored to win the 800m)
It's 5:45am, and I'm wide awake. I have been for the last hour or so. In fact, I've been up on and off all night. I never sleep well the night before a race, and last night was no exception. Being in a foreign bed (and a residence bed for that matter) didn't help things. Race time is 8:00am, so it's time to get up, have some breakfast, and get ready for the day's adventure.
Today's stage is the half marathon, 21.1km of beautiful Conestogo countryside. I've said it in previous blog posts, but the country runs that some of the stages are set in are beautiful. a good combination of rolling hills, with some flat as well. The route is made up of two loops, the first one 13km in length, and the second one 8km.
The plan for today was to take it easy, and relax, and run an easy pace. No time goal in mind, but I figured I could finish in around 2 hours. I really didn't know what to expect, because this would be the longest I've run in quite a few weeks, and there's a whole week of running to go.
As usual we arrived at the start around 30 minutes before gun time. With 40 competitors (and some individual stage competitors) it's a pretty small group, compared to running big races. But that's another thing I love about this event. Everyone is mingling and talking before the race, and the atmosphere is very light. A nice run in the country with good friends. I indulged in my traditional pre-race swing to try and relax, and was joined by fellow ENDURrunner Vicki.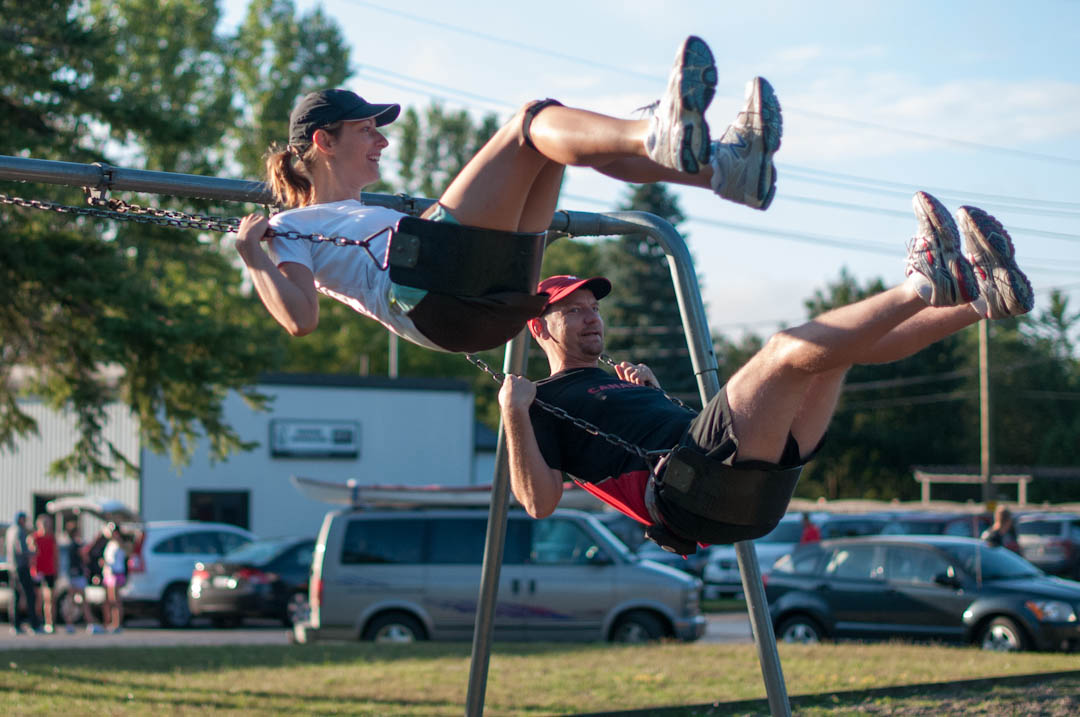 Photo by Julie Schmidt
I was hoping to take one of my gels before we started, but I couldn't find any water, and wasn't about to root through any of the race director's coolers. I'll just suck it up and take one on the course, at the 45 minute mark, as I usually do.
Okay, it's 8:00am, and race time! After a quick roll call and some last minute instructions, we're off and running. I'm feeling okay, running a comfortable 5:30 min/km pace. The weather this year is the coolest it's ever been since I've been attending the ENDURrun (this is my fourth year, yahoo!) and I chose to wear my Canada shirt, socks and hat in honour of the men's Olympic marathon running today. I also decided against running with music this time around. I ran last year with tunes, and found that while they did help when the going got tough, they were also distracting. Time to zone out, look at the scenery (farms, cows, horses, golfers) and go on auto-pilot.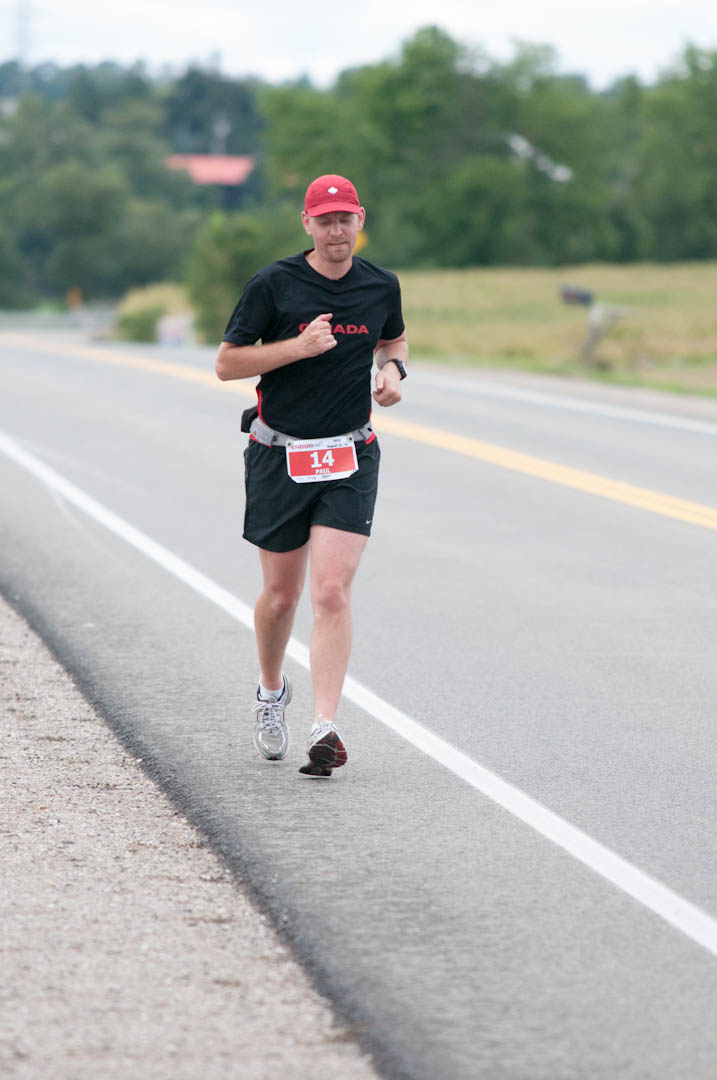 Photo by Julie Schmidt
Around the 11km mark, I start to feel some pain from the outside of my knee. Huh? This is new. I've never had that pain EVER since I started running. As I progressed, it slowly got worse and worse. What is going on? It got so bad that by 12km it was bad enough for me to break down to a walk. I walked for a minute, maybe two, I can't recall, then started running again. No pain; well that's good. Hopefully it was a short-lived thing.
No such luck. As I came through the finish line at the end of the first loop, it was raging again, and I had to stop and stretch it. I recognized it now for what it was; this must be my left IT band causing me problems. Again I walked a bit, then started running. This walk/run progressed pretty much for the second loop, with each set of "running" getting smaller and smaller, as my leg hurt more and more. Of course, as those of you who are runners know, when one has pain or discomfort of this sort, it also causes adjustments in gait that cause pain elsewhere. Before long, the bottom of my left was sore. I was falling apart, and I'm not even 16km in!
I finished the stage in 2:09; not too terrible as half marathons go, but the ITB thing is troubling. One of my fellow ENDURrunners offered to lend me a foam roller to stretch it out tonight, which I will do. Other than that, some Advil, stretching, and resting is on tap for the rest of the day. First, a nice dip in Lloyd's (the race director) pool and a cold beer.
For the stats geeks, here they are: TrainingPeaks Run Stats
Pictures from today's stage can be found here: RunWaterloo Flickr Album